Message from Dean,
Graduate School
IUHW Graduate School was founded in 1999, with the aim to attract advanced-level medical specialists who will play leading roles in the fields of health, medicine, and welfare in Japan. IUHW Graduate School is unique in that our various arrangements to provide a sufficient research environment for people who work full-time. Currently, our students include those who actually work in the field of health and welfare, and those newly out of college.
Since the school's founding, new courses have been established focusing on various aspects of the health and welfare field. Some of these unique courses include the following: Reproductive Embryology (rare); Health and Welfare Journalism" (first in Japan); Midwifery (a first as a graduate program); Clinical Psychology (designated by the Foundation of the Japanese Certification Board for Clinical Psychologists); Nurse Practitioner (pioneering course focusing on "specified practice"); Medical Administration; Human Health Related MBA (h-MBA); Advanced Care Network Development (has successfully promoted aged care to an academic level). In 2015, the Health and Welfare Education and Administration course was established with the aim of developing human resources who will play active roles as teaching and administrative staff in the field of health and welfare. One of the primary characteristics of our graduate school is the capacity to promptly capture up-to-date social needs and dynamically evolve by responding to those needs.
Another is the diverse learning methods and opportunities it provides. One such example, which was launched in 2013, provides flexible course registration to pharmacists, nurses, and radiological technologists in doctoral programs. They are able to become cancer specialists by majoring in their own professional course along with the course Inter-professional Collaboration Coping with Cancer Advanced Treatment.
Another characteristic is the application of ICT. This simultaneous two-way remote teaching system has been installed in each of the six IUHW Graduate School campuses. Lectures using ICT have been advanced to the level of VOD and e-learning, making remote and review learning accessible.
In addition to these distinguishing characteristics, we have five affiliated university hospitals (IUHW Hospital, IUHW Shioya Hospital, IUHW Mita Hospital, and IUHW Atami Hospital) and many related health and welfare facilities in the IUHW group, including IUHW Ichikawa Hospital in Chiba, Sanno Hospital and Sanno Medical Center in Tokyo, Fukuoka Sanno Hospital, Takagi Hospital, and Yanagawa Rehabilitation Center in Kyushu. All these hospitals provide clinical training opportunities for graduate students.
Furthermore, through a project strongly connected to graduate students and faculty members, we have diverse affiliations with facilities such as the Life-long Learning Center for Nurses with three levels (first, second, and third); Nogizaka School in Aoyama, which offers night classes for those hoping to study topics related to medicine, welfare, and politics; Life-long Learning Center in the Kyushu Area; and the International Research Center of Health and Welfare. They all provide diverse learning and research options for graduate students.
We are pleased to inform you the inauguration of Graduate School of Medicine and Graduate School of Public Health at IUHW in April 2018. Through a Doctoral program (4-year course) in Medicine and Master's program (2-year course) in Public Health, we will nurture advanced-level competent personnel who can play a leading role in medical sciences by providing an excellent environment for education and research as an international center for medical exchange.
IUHW Graduate School Campus will move to Akasaka Area in Tokyo next April. On this occasion we will expand scale of our school both in quality and quantity in order to enhance academic power and brand strength.
Seeking to take on a role in the transforming future, we will emphasize stress on the area where development is expected and try hard to make research innovations realized continuously in various academic fields.
IUHW Graduate School, which combines practical and well-organized education and research environments, will continue to advance comprehensive, graduate-level education and research opportunities in the field of health, medicine, and welfare, keeping sight of international perspectives. We appreciate your continued support.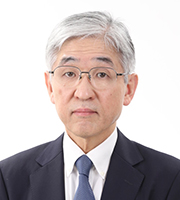 ProfileSoichiro Miura, M.D., PhD
Graduate from Keio University, School of Medicine Former President, National Defense Medical College Honorary Professor, National Defense Medical College Visiting Professor, Keio University, School of Medicine Present post since June, 2017.
Graduate from Keio University, School of Medicine Former President, National Defense Medical College Honorary Professor, National Defense Medical College Visiting Professor, Keio University, School of Medicine Present post since June, 2017.
Other About Graduate School